China Slowing Down, Fear & Loathing in Europe

Prior to the London open, the China HSBC Flash Manufacturing came out worse than expectated, alarming investors globally since the motherland slowing down is a big concern as the weakening output affects all.  This initially sent the AUD and NZD lower but both recovered shortly after to hold modest gains throughout the day.
 
The situation did not get any better with German manufacturing also coming under expectations. This continued to put salt into the Eurozones wounds with the worries of a Grexit, and contingency plans for them to leave only exacerbating the situation.  This translated into investors realizing no country is immune to this Greek tragedy.  It's really a question of who will default first (Spain or Greece) but one will be the match and the other will be the kindle. Doesn't matter either way as all the European banks hold Spanish and Greek debt in massive amounts.
 
Keep in mind the fundin outflows continue their mass exodus from the European banks with the ECB showing €35.4B leaving the EZ in March. This left the Greenback and JPY as the main benefactors.
 
We would like to note two things for traders;

1) The Memorial Holiday weekend in the US starts tomorrow so expect lower volatility and liquidity till after Monday NY session
2) the CME has cut Crude and Gold margins by 13% and 10% respectively.  Usually this is a bullish thing for Gold and Crude, but the last time they did this, they sold off heavily the next day so caution advised if your trading those two tomorrow or Monday
 
USDCHF - Approaching Multi-Year Resistance

While all eyes have been on the Euro hitting the 2yr lows, the USDCHF has been approaching multi-year highs (.9600) climbing 230pips in the last 3 days alone.  The last time the pair was above this level was early Feb. 2011 so 13months in between trips.  Ironically, the last 2x it has approached these levels, it did so on the heels of a 3 day climb, just as it did this time. Warning signal it may not break?  Possibly as the price action looks eerily similar each time with the last two trips here posting a bearish engulfing reversal pattern each time.
 
With that being said, bears which think there may be position squaring ahead of the weekend can look for price action signals on the 1hr and 4hr charts for a possible short with a tight stop. For bulls, we suggest either a pullback to the 20ema on the daily chart, or a breakout pullback setup to the .9600 for confirmation to go long considering its past history here.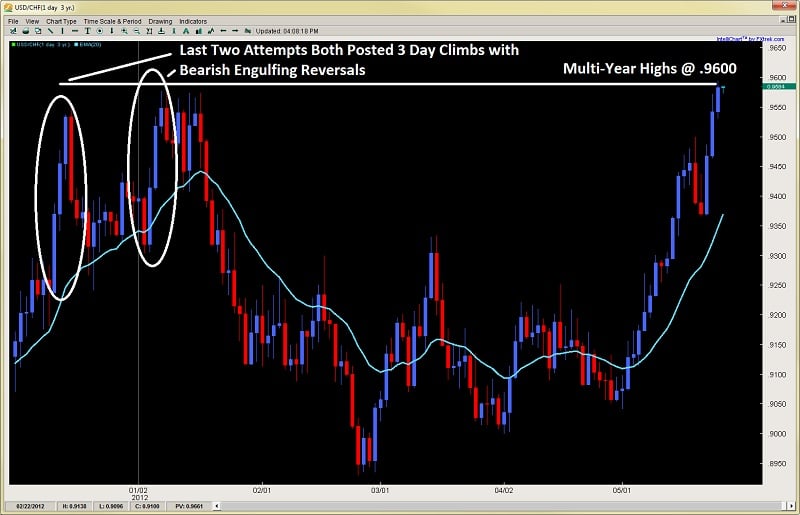 For those wanting to learn rule based price action systems, access to the traders forum, lifetime membership & more, check out my Forex Price Action Course
 
Upcoming Economic Announcements:
 
EUR German GfK Consumer Confidence Survey
06.00GMT
02.00EST
USD U. of Michigan Confidence
13.55GMT
09.55EST
 
Make sure to check out my new forex trading video on Price Action Trading - Counter Trend Price Action Setups