EUR/USD weakened for a second week in a row, as speculation of a rate cut grew, but nothing is certain. Rate cut or no rate cut? This is the question and we will get answer this week in one of the more important ECB decisions. In addition, German inflation, employment and retail data, Manufacturing PMIs are additional highlights of a very busy week.  Here is an outlook on the main market-movers awaiting us and an updated technical analysis for EUR/USD.
After getting a rate cut hint from the hawkish Bundesbank, other officials and analysts shook the markets with speculation. The same Bundesbank reportedly returned to its roots by not backing the OMT backstop. However, not only peripheral countries are struggling Spain (Spanish updated unemployment rate: 27.2%) - German PMIs looked bad and the Eurozone continued to stagnate in April, raising concerns for a further economic downturn in the Euro-zone. Also the US isn't doing well, as the strong start to the year wasn't that strong: GDP rose by only 2.5% on an annual basis.
EUR/USD daily graph with support and resistance lines on it. Click to enlarge: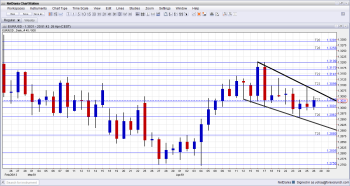 German Prelim CPI: 

Monday. Inflation in  Europe's biggest economy, weakened to its lowest level in more than two years, reaching 0.5% in March, compared to 0.6% reading released in February. The cost of living in Germany edged up by 1.4% on a yearly basis last month, down from 1.5% in February. A plunge of 0.2% is expected now.

Retail PMI: 

Monday, 9:10. The Eurozone retail purchasing managers' index remained below the 50 point line in March, reaching 43.7 following 44.5 in the on businesses incr4eased throughout the Eurozone. France's retail sector experienced the worst month on record, while Germany and Italy also remained in negative territory.

German Retail Sales: 

Tuesday, 7:00. Retail sales rose unexpectedly for a second straight month in February, up by 0.4% from a 0.3% gain in January, missing market predictions of a 0.5% fall. German consumption is growing due to its strong labor market, however, Europe's' debt crisis still weighs on demand. A fall of 0.1% is forecasted now.

GfK German Consumer Climate: 

Tuesday, 7:00. The consumer climate remained stable in March, in line with market predictions reaching 5.9. However consumer mood in Germany does not display a uniform trend. Economists believe that the political stalemate in Italy did not impact German consumer sentiment, but the debt crisis in Cyprus still poses a downside risk. The same reading of 5.9  is expected.

French Consumer Spending: 

Tuesday, 7:45. French consumer spending continued to contract in February, dropping 0.2% from a 0.9% decline in January. Analysts expected an increase of 0.3%. President Francois Hollande wanted to reassure the public that he has the tools to restore France to growth, by boosting consumer spending. It is forecasted that French consumer spending will contract 0.8% in the first quarter. A gain of 0.2% is forecasted.

Spanish Flash GDP: 

Tuesday, 8:00. Spanish economy stricken by a long-running economic crisis and record high unemployment, contracted 0.7% in the fourth quarter following a 0.3% in the third quarter. Spanish Prime Minister Mariano Rajoy said he would send parliament a plan to stimulate the economy and put young people back to work. Output in 2012 declined 1.4% from 2011. The International Monetary Fund has recommended Spain might be given some relief after in order to encourage growth and stop the steep deterioration in the economy. A smaller fall of 0.5% is anticipated.

German Unemployment Change: 

Tuesday, 8:55. German unemployment increased in March to a seasonally adjusted total of 2.935 million in March, increasing by 13,000 after a flat reading in February. The reading missed predictions for a 2,000 decline. Nevertheless, the German job market remains solid. An increase of 2,000 unemployed is expected.

CPI Flash Estimate: 

Tuesday, 10:00. Consumer price inflation in the 17 countries using the euro declined to an annual rate of 1.7% in March, following 1.8% increase in the previous month, but better than the 1.6% predicted by analysts. Prices in food, alcohol, and tobacco increased the most. Since inflation is well below the ECB's target, it can motivate the central bank to cut rates in its next meeting. A decline to 1.6% is forecasted.

Unemployment Rate: 

Tuesday, 10:00.

 

The unemployment rate in the euro zone remained stable at 12% in February, but was up from 10.9% registered one year ago, indicating the Eurozone labor market deteriorated due to ongoing debt crisis. Among the Member States, the lowest unemployment rates were recorded in Austria (4.8 percent), Germany (5.4 percent), Luxembourg (5.5 percent) and Netherlands (6.2 percent), and the highest in Greece (26.4 percent in December 2012) and Spain (26.3 percent).A rise to 12.1% is predicted.

Manufacturing PMI: 

Thursday. Manufacturing activity across Europe's major economies continued to deteriorate in March. Spanish manufacturing edged down to 44.2 in March from 46.8 in February, Italian manufacturing PMI declined to 44.5 from 45.8, while expected a smaller decline to 45.4 and Markit's Euro zone Manufacturing PMI weakened further to 46.8 from 47.9 in February – slightly better than an preliminary estimate of 46.6, but extending its run below the 50 mark indicating contraction. The first quarter's Euro zone PMI average of 47.5 goes hand in hand with no GDP growth (at best) and a weakening momentum into the second quarter. Spanish manufacturing  is expected to increase to 44.6, Italian manufacturing PMI to 44.9, and the Eurozone  Manufacturing PMI down to 46.5.

Rate decision: Thursday, 11:45,  press conference at 12:30. Weak German growth, another record in Spanish unemployment and inflation below target all support easier monetary policy. However, a rate cut will not really decrease borrowing costs, which are already very low. The biggest motivation for cutting the rates would be lowering the value of the euro, thus joining the currency wars in which the ECB has lost so far. A lower value for the single currency would certainly help. At the moment, it seems that there is low chance of a rate cut. No cut would strengthen the euro, while a cut would weaken it. If the ECB wants to get serious with weakening the currency, the ultimate weapon is to cut the deposit rate below the current 0%. A negative rate would send the euro free-falling. See more in the ECB Preview: Setting a Negative Deposit Rate Would Provide the Real Blow – 4 Sce...

.

EU Economic Forecasts: 

Friday, 10:00. According to the last report released in February the European Commission forecasted that the euro zone will not return to growth until 2014, reversing its prediction for an end to recession this year and blaming a lack of bank lending and record joblessness for delaying the recovery. 

The Commission sees the euro zone economy growing 1.4 percent in 2014. The Central Bank's promised to do what it takes to defend its common currency, but the damage from the 2008/2009 global financial crisis and the ensuing euro zone debt crisis has been greater than expected.
*All times are GMT
EUR/USD Technical Analysis
Euro/dollar started the week with a downfall, and found support around 1.2960 (mentioned last week). IT then managed to recover and even make an attempt on the 1.31 line before falling back under 1.3050. The round 1.30 served as a magnet for the pair.
Technical lines from top to bottom:
1.34 was a stubborn cap during the spring of 2012 and continued its stubborn stance in January 2013 – the line now serves as resistance. These are the head and shoulders lines. 1.3350 was a peak in January 2013 and worked very nicely as support during February. The line is weaker now.
Below, 1.3290 served as resistance before the pair collapsed in May, After many failures to break higher, the euro finally pushed through. 1.3255 provided support during January 2013 and also beforehand. A recovery attempt failed to reconquer this line.
1.32 is a clear top after capping the pair twice in April 2012. This is a round number as well. 1.3170, which was the peak of September, served as support for the pair after the break in December but it is weaker now.
1.3140 capped the pair during April, and it safeguards 1.3170. 1.3100 is a minor line after working as temporary resistance in December 2012. It is followed by 1.3050, which capped the pair in early April and also had a role beforehand.
The very round 1.30 line was a tough line of resistance for the September rally. In addition to being a round number, it also served as strong support. It served as a pivotal line of late. 1.2960 provided some support at the beginning of the year and also in September and October – the line is strengthening once again after working as a triple bottom. It remains an important line on the downside.
Lower, 1.2880 worked in both directions during 2012 and was the beginning of the uptrend support line. The recent breakdown turned the line into strong resistance. Lower, 1.2805 was the bottom border of the wide 1.2805-1.3170 that characterized the pair's trading for a long time.
Below, 1.2750 worked as a separator of ranges during November, and stopped the pair's drop in March. This is a key line on the downside, as clearly shown in the first week of April. This is followed by the round number of 1.27, which is a minor line.
Downtrend channel
EUR/USD is beginning to trade in a downwards channel, which is not fully parallel, in the last few weeks. This will be interesting to watch as well.
I remain bearish on EUR/USD
The economic situation in Europe looks worse with every day that passes by, and signs of weakness are also evident in the core of the core: Germany. Even if the ECB doesn't cut the rates, it will have to acknowledge the bad conditions and the high exchange rate. A cut of the deposit rate was not ruled out by Draghi in the past, and cannot be ruled out now. See more in the ECB preview.
And while the US isn't doing too well either, the unemployment rate is still significantly lower and the economy is still growing. The market will shake on the Fed decision and the Non-Farm Payrolls always cause a storm, but the focus certainly shifts to the euro-zone now.
More technical analysis, just before the recent fall: EUR/USD Stalls around Key 1.3000 Level by James Chen.
If you have interest in a different way of trading currencies, check out the weekly binary options setups, including EUR/USD and more. Further reading: